CyberGhost VPN review, CyberGhost is a reputable VPN provider with a strong focus on user privacy. This provider was founded in Romania in 2011 and has quickly established itself as one of the best free VPN providers in the world. Since then, CyberGhost VPN has become a paid service and still works very well, maybe even better than before. This VPN belongs to Kape Technologies.
CyberGhost VPN never shares customer data with the government. With thousands of servers around the world, you can be sure you've found a server that gives you fast speeds over public Wi-Fi.
Being a reliable encrypted VPN, it offers relatively cheap subscriptions as well as a remarkable 45-day money-back guarantee for longer subscriptions. This is ideal if you want to install VPN on all your devices, including laptop, smart TV, Android smartphone, iPhone, Chromecast, and tablet.
In this CyberGhost VPN review, we've taken a detailed look at security, speed and performance features and apps for each platform. I found it a versatile tool for unblocking much-coveted streaming services like Netflix USA and BBC iPlayer.
CyberGhost VPN Review 2023
Let's start with the pros and cons. What were our favorite and least favorite things about CyberGhost after extensive testing?
Pros and Cons of CyberGhost VPN
Pros
AES 256-bit encryption
45-day money-back guarantee
Supports torrenting & P2P traffic
Support Anonymous payment
Up to 7 simultaneous connections
VPN Kill switch
Works with Netflix
DNS Leak Protection
Over 6700 VPN servers worldwide
24/7 live Customer Support service
In-build Ad-Blocker
Cons
The website uses aggressive tracking
Keep logs
Weak servers in some countries
Expensive for monthly plans
No split tunneling on macOS or iOS
CyberGhost VPN Features
Smart Kill Switch
All CyberGhost apps for Windows, macOS, iOS, and Android have automatic kill switch features. While you may not need to use it, the importance of a kill switch is important because it protects you from being hacked if your temporary connection is interrupted. Otherwise, your IP address and activity will be displayed, but with your Internet connection, it will be temporarily suspended until the VPN connection is restored.
Split Tunneling
Split Tunneling is an intelligent feature of CyberGhost VPN which allows you to exclude certain internet sites from the VPN. That is very useful, by way of example, if you usually hook up into an overseas VPN server, however, wish to connect to local versions of several internet sites without disconnecting the VPN. Split Tunneling attribute just available on its mobile and desktop programs
Unblock geo-restricted
Using CyberGhost, you can enjoy your favourite shows and stream them to your heart's content. Censored or geo-restricted content may be fully accessible to you through the CyberGhost VPN server.
Servers & locations
The CyberGhost VPN shines so brightly. Few other VPN companies are proud to be able to choose between over 6700 services in 88 countries and 110 different locations. You will find services in larger countries and cities and beyond. This means that no matter what reason you use VPN and which service pages you are looking for, your needs must be met with a wide range of services.
Torrenting P2P
CyberGhost is also a good VPN for staying anonymous when torrenting. It's fast, has reactive log in coverages optimized and optimized P2P servers for many programs. This means you could enjoy high speed and also hide your IP and activity in your ISP.
The CyberGhost VPN does not allow port forwarding for privacy reasons, letting you manually configure NAT firewalls to improve P2P connections. CyberGhost is a VPN service for torrenting, which means port forwarding isn't a prerequisite, however, it can be bothersome for power users.
No logging Policies
When it comes to logging, CyberGhost insists on its strict logging policy and this is an important part of its online communication. It claims that the history of web searches, the websites you visit, the data you download, and what you are looking for is not tracked or recorded by the company. It also promises not to register your IP address, connection timestamps, or how long you have used the service.
CyberGhost VPN Review Protocols
OpenVPN
It is one of the most stable VPN options. Open source means that users can scan the source code for vulnerabilities or use it for other projects. Because OpenVPN is overcrowded with people in a law-abiding community, it is less likely to be stolen by law enforcement. This permission agreement also allows users to use AES-256 encryption to bypass firewalls. CyberGhost VPNs OpenVPN protocol available on all major platform Windows, macOS, iOS and Android.
PPTP
PPTP is a point-to-point protocol (PPP) based on the broadband data layer protocol (WAN) developed by Microsoft, which allows network traffic to be aggregated and routed over insecure public networks such as the Internet. Point-to-Point Tunneling Protocol (PPTP) allows you to create virtual private networks (VPNs) that tunnel TCP / IP traffic over the Internet.
WireGuard®
WireGuard can be really actually just a security-focused virtual private network (VPN) famous for its ease and simplicity of usage. It uses recognized cryptography algorithms and protocols to safeguard data. Initially designed for the Linux kernel, it's currently deployable on Windows, macOS, BSD, iOS, and Android.
How secure is CyberGhost VPN?
Security is one of the most important features of a VPN. For many, the only reason they have a VPN is that they don't need your information on the go. Therefore, they do not need the VPN service to store logs of their online events. This feature has been advertised to other customers, but it helps you comply with the law to get customers to use your services. CyberGhost is a service that values online anonymity, free use of the Internet, privacy, and security. As a result, they have taken steps to protect your privacy.
Cyberghost uses standard industry today AES 256-bit encryption, which ensures the highest level of Internet security. It also comes with some bells and whistles series tools, such as ad-blocking, blocking malware, and leakage protection DNS and IPv6. Alerts are integrated into the interface that indicates when they will be used, and any other relevant detail.
From time to time, CyberGhost publishes a "clear report" on how often organizations such as the DMCA (Digital Millennium Copyright Act) and the police use personal data and how CyberGhost responds to requests today. They insist that they do not pass the information on to other people.
How fast is CyberGhost VPN?
Speed is essential once you are on the lookout for a fantastic VPN. That you never want to wait weeks to get the most recent instalment of your favourite show to load, nor can you need your online to slow the minute that you switch in your own VPN.
It is also surprisingly reliable and works consistently whether you connect to a node nearby or a node on the other side of the world. CyberGhost is one of the fastest VPNs we have tested, with an average download speed of over 160 Mbps when connected to a nearby server.
CyberGhost VPN Review Subscriptions
It offers subscriptions for one month, one year, two years and three years. We think the latter is best, especially if the way you work requires protecting your online privacy. For a three-year subscription, you only have to pay $ 2.25 per month. It seems almost too cheap, considering that VPN subscription packages can range from free to $ 13 per month.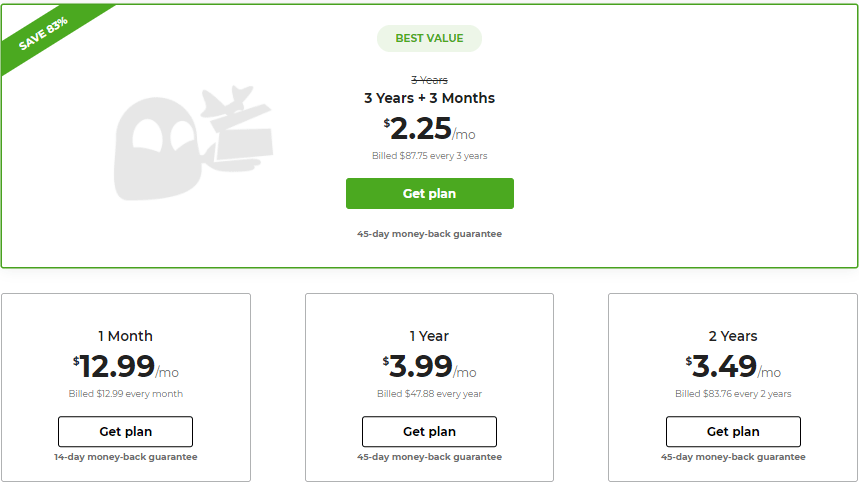 Payment Method
CyberGhost currently accepts the following payment options:
PayPal
Bitcoin
Regional payment methods (including iDeal, Ali Pay, WebMoney, AfterPay etc.)
Credit card (VISA, MasterCard, American Express, Discover Card, JCB, Diners Club International)
Frequently Asked Questions
Does CyberGhost work with Netflix?
Yes, Even CyberGhost works with Netflix. With a broad choice of servers, so you could always get Netflix. CyberGhost makes certain they consistently have a server designed for their own users to see the US model of Netflix. CyberGhost VPN also works with other streaming networks like Hulu, iPlayer, BBC, HBO and Amazon Prime TV.
Does CyberGhost work in China?
CyberGhost is not the best option for countries with high censorship. You can not bypass censorship in China, Turkey, and the United Arab Emirates. If you live there, NordVPN is a better option.
How much does CyberGhost VPN cost?
The CyberGhot VPN has four subscription plan.
Does CyberGhost work for gaming?
CyberGhost VPN is one of the best virtual private gaming networks. You can set up a VPN connection directly on the router, and if your console is connected to the Wi-Fi network, you are immediately protected.
Fast Speed
Low latency (ping)
CyberGhost Customer Support
CyberGhost offers a great base of tutorials and frequently asked questions. In most cases, you can find the answer to your question there. It also offers a live chat service. You can reach CyberGhost support in 24/7 live chat. When you open the chat window, you will be prompted to enter your name and email address so that they can send the result of your conversation to your email address. I tested your chat service by asking some questions. They were quick and polite and could more than adequately answer our questions. Provides customer support in English, German and French. If you do not know any of these languages, it will be a little harder for you to find the answer to your question.
Summary
CyberGhost is a versatile option with global reach and top-notch digital security software. We really liked the headquarters in Romania because we don't have to worry about transferring our data to the government. We were also pleased that torrenting was so easy. Finally, CyberGhost VPN passed all of our top-notch speed and security tests and gave us the confidence that it can protect our privacy while we use the internet, no matter what we want.