Avast is best known for its antivirus software. The Avast free anti-virus software is used by more than 400 million people around the world. In addition to antivirus software, Avast also offers a VPN service: Avast SecureLine VPN. Avast initially focused on protecting computers from malware and cybercrime, but it also focuses on protecting users' privacy. In our Avast SecureLine VPN review, we discuss its features, speed, and security.
The SecureLine VPN has servers in 55 locations in 34 countries. The Avast company does not disclose the exact number of VPN servers on the network. Avast SecureLine VPN promises to hide your IP address, hide your internet activity from your eyes, and help you access blocked streaming content.
Moreover, Avast is a big name in the antivirus industry but not that popular in the VPN market. The company is based in the Czech Republic, which is not made up of five countries. Their VPN is fast and has simple, straightforward software. Netflix also works, and you can safely download torrents with Avast SecureLine. Moreover, you can even bypass geo-restriction using Avast SecurLine VPN.
Avast SecureLine VPN Review 2023
Before we get into the review, let me give you a overview of SecureLine VPN pros and cons.
Avast SecureLine Pros and Cons
Pros
Military-grade encryption
Unlimited bandwidth
kill switch
Unblock Netflix
Compatible with Android, macOS, Windows, and iPhone
7 days free trails no credit card required
Allow P2P torrenting
Cons
No Split tunnel
Small server network
No router app
Features
Kill Switch
Avast SecureLine has a built-in kill switch. A kill switch ensures that your entire internet connection is stopped as soon as your VPN connection drops. This means you never accidentally leak personal or sensitive information. You can activate this within the settings of the software.
How enable Kill Switch in Avast SecureLine VPN?
To activate kill switch click on " Menu "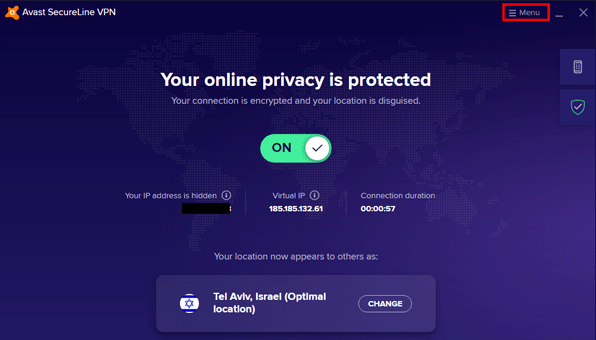 Then click then on " Settings "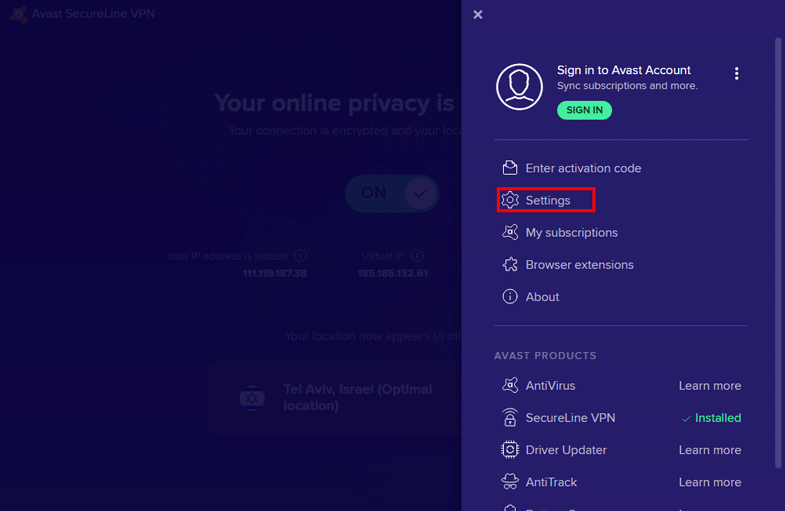 Then you go to the tab " Network security ". Click the box before " Enable Kill Switch "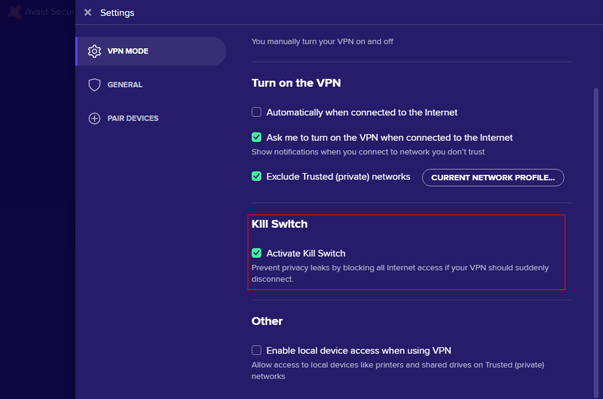 AES-256 Encryption
Avast SecureLine uses bank-level AES-256 encryption to protect all of your internet activity, whatever it is the most secure encryption method) in the modern world. This means that no one, not even hackers, ISPs, employers, or the government, can see your activities.
No bandwidth limit
One of the best features of Avast SecureLine VPN is they didn't limit your bandwidth. Oh yeah, you can download unlimited torrent files and also stream at 4k resolution with SecureLine VPN.
Hide your IP address
Your IP address is one of the main ways ISPs and others track you online. So don't give them more than necessary – SecureLine VPN servers will be your mask and provide you with a new IP address.
Apple-Approved
Many VPN providers have their own iOS apps. Avast SecureLine VPN includes IPSec apps for iOS and macOS that rely on Apple batteries for better compatibility and performance.
Servers
Many people watch VPN from the bottom of their server network. This is because a larger server network typically indicates higher speeds and better overall connectivity. Avast SecureLine VPN has 55 servers in 34 countries. This is really small when we compare to other VPNs like ExpressVPN NordVPN. The NordVPN has 5570 servers in 59 countries worldwide. It is really huge amount as compared to the avast secure line.
Avast VPN Netflix
Avast VPN also offers you dedicated server for stream and P2P file transfer. But, dew to limited server Netflix not work well with Avast SecureLine VPN.
Avast VPN for firestick
If you have an Amazon Fire TV Stick, Apple TV and other TV device, you can't use Avast SecureLine on them. If you want to use VPN on your Fire TV Stick, you have choose other VPN like NordVPN or ExpressVPN.
How Fast is Avast SecureLine VPN?
A fast VPN ensures that you don't have to wait long to load websites. After all, you don't want to save Netflix all the time because of your VPN connection. So we tested the speed of the Avast SecureLine VPN so you know what to expect from this VPN.
To determine the true speed of Avast SecureLine, we tested this VPN through Speedtest.net. Here are the results of our internet connection when testing Avast SecureLine.
Speedtest Result Without VPN Connection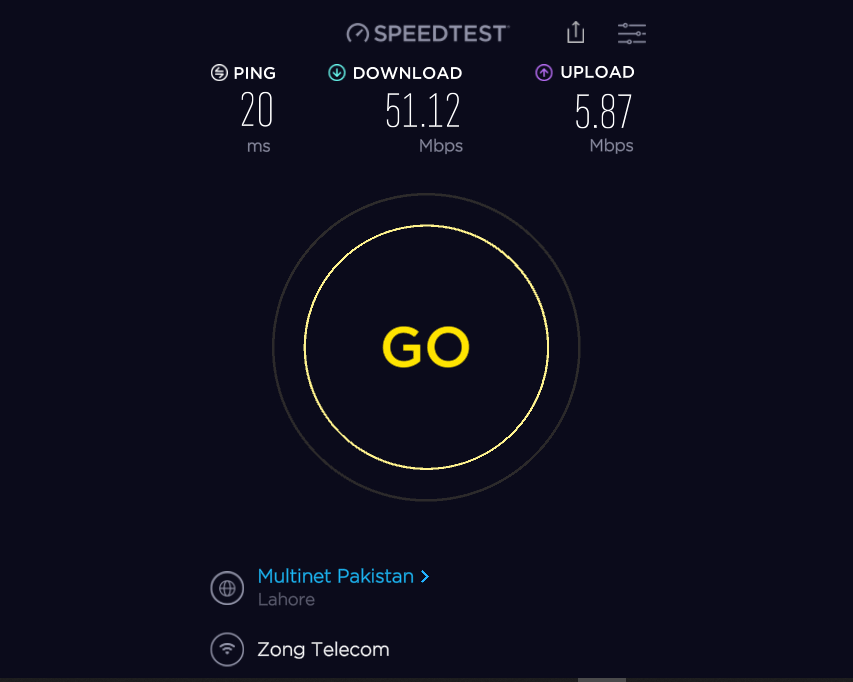 Speedtest With Avast SecureLine VPN Connection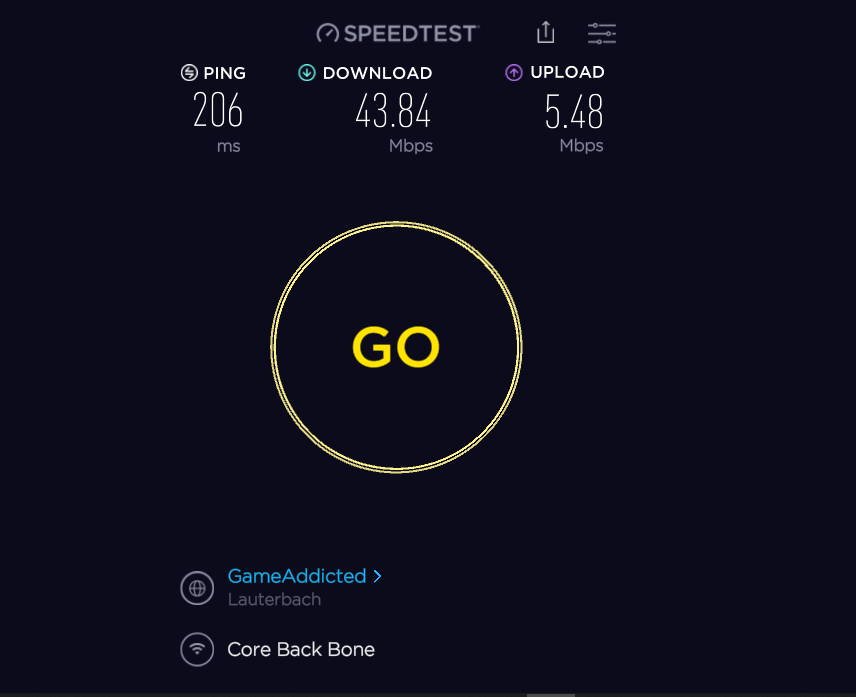 The speed of Avast SecureLine VPN is awesome. We connect to Germen server. And we test from Pakistan which is in the Asia subcontinent and get really good result you can see above screenshot. We recommend SecureLine VPN because it give you 7 days of free trials.
Security – How safe is Avast SecureLine VPN?
The general rule of thumb is that a secure VPN is a good VPN. After all, many people use a VPN to protect their security and privacy online. That's why we also check all the providers we check for their safety.
Avast SecureLine VPN uses strong 256-bit AES encryption. In addition, Avast SecureLine works with various protocols such as OpenVPN, IPsec, and IKEv2. The protocol used for your connection depends on your operating system.
| | |
| --- | --- |
| Operating System | Protocol |
| Android | OpenVPN (UDP) |
| iOS | IPsec/ IKEv2 |
| macOS | IPsec |
| Windows | OpenVPN (UDP) |
Logging Policy
At Avast SecureLine VPN site they said clearly that they did keep logs.
However, a careful review of the privacy policy shows that the data is stored. These logs record how many hours you connect and disconnect from the VPN, how long you stay connected, and how much bandwidth you use. While Avast states that this data collected for diagnostic purposes only, this policy may be impractical for some users.
On the other hand, Avast says that these records are automatically deleted after 30 days unless the company needs to resolve disputes, comply with its legal obligations, or enforce its agreements (including in court).
DNS Leak Test
VPNs provide a secure tunnel around your internet connection. It will encrypt your traffic so that no one can enter. Most importantly, your IP address is sealed, and your real location is hidden.
That way, if you see what you see while sitting there, no government agency can confuse you.
We have tested on dnsleak.net and many other sites, and no leaks were found.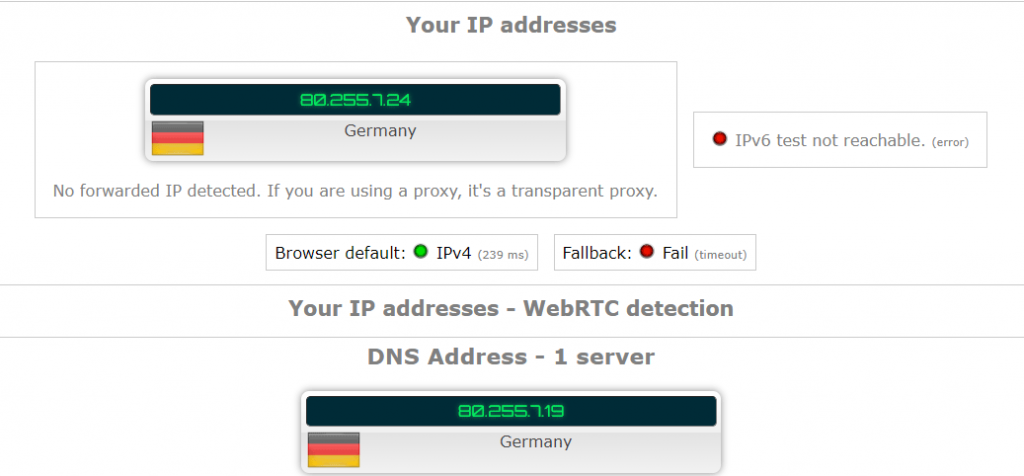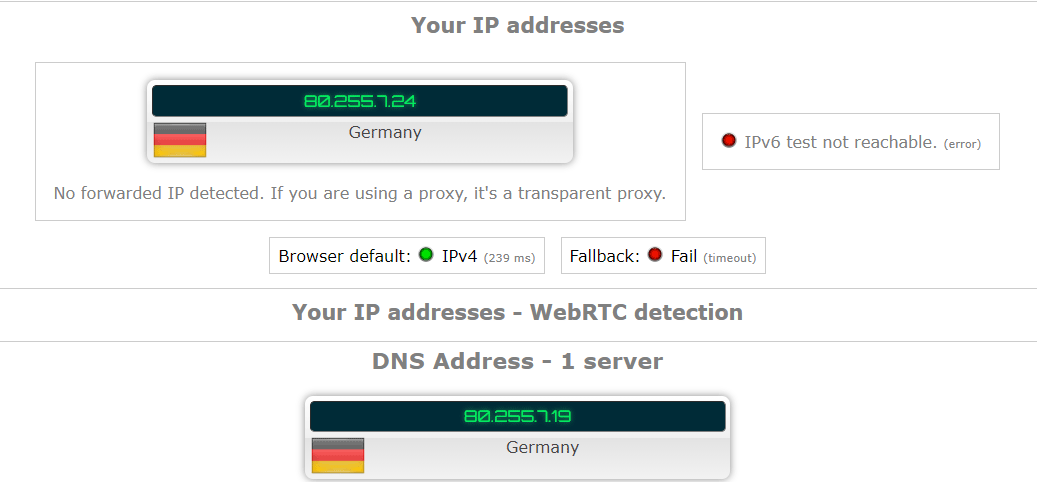 Unlike other VPN services, Avast does not offer a monthly SecureLine subscription. Instead, you can choose between one year, two years and three years. For a device, the costs are as follows:
Subscription plan for 5 Devices, the cost changes to the following:
Supported Payment Method
Avast SecureLine VPN currently accepts the following payment options:
PayPal
Credit card (VISA, MasterCard, American Express, Discover Card, JCB, Diners Club International)
Cryptocurrency Not accepted
Supported Platforms
Before buying Avast VPN make sure your device compatible with their app.
Windows
macOS
Android
iPhone
Frequently Asked Questions
Is Avast SecureLine VPN Safe?
Avast SecureLine VPN protects your privacy with bank encryption and DNS / IPv6 leak protection. The application also has an automatic kill switch, which is standard. You can quickly enable it from the application's network security settings menu. Besides, an advanced and secure AES 256 encryption used.
Is SecureLine VPN free?
Avast SecureLine VPN offers 7 days of free trials. In addition, you don't have to pay a single dollar. It doesn't require any credit card to get Avast SecureLine VPN free trails.
What does Avast SecureLine VPN do?
Avast SecureLine VPN protects your digital privacy. It safe your identity from ISPs and governments. Moreover, you can unblock or bypass geo-restrictions using Avast VPN. It also helps you to stream Netflix or download torrent files.
How secure is Avast SecureLine VPN?
Avast VPN uses most secure AES 256 encryption to protect user's data.