The best Android VPNs are available from all the best VPN providers, but choosing the best for you can be confusing. Also, downloading Android VPN may be your first experience with VPNs of any type, so it is essential to know how to use one and which one is the best VPN for Android.
The primary way you connect to the internet is likely to be via your Android device. You also expected to be using that connection on public Wi-Fi – from your daily visit to the coffee shop to when you travel. Therefore, it's crucial to have the best VPN app for Android, as you could find yourself relying on it more than you realize.
Besides protecting your mobile data on public Wi-Fi, Android users can use VPNs to access Netflix and their mobile bank accounts worldwide, avoid location-based targeting of advertisements, and stop Google from following you around. The hardest part of choosing the Android VPN is knowing which one works best for you.
Since there are hundreds of VPNs available in the Google Play Store, you might not be able to differentiate them. Therefore, we will tell you how to find the best VPN for Android. Also, make sure to go through their features so that you choose the best VPN app for your Android device.
How to Choose a Best Android VPN app?
The VPN provider must have a dedicated Android app. It would be best to be sure that the app is compatible with your Android version and works well on your Android device.
Make sure you get a VPN for Android that not only works with your computer's operating system but allows you to use it on all your gadgets simultaneously.
Additionally, your security measures need to be tightened up – a kill switch can come in handy if the connection loses power.
It is also clear from the provider's privacy policy and the terms of service what logs and details they keep. Avoid malicious apps and free VPN app if you want to stay safe. A number of these VPN apps promise free privacy but fail to mention what's meant. We have listed brilliant seven best Android VPN apps below.
7 Best Android VPNs App in 2022
1. NordVPN
Top Rated VPN in Google Play Store
Available on: macOS, Windows OS, Android, iOS, Linux | Number of servers: 5444+ | Server locations: 80+ | Zero-logging: Yes | Simultaneous connections: 6 Dedicated Android App: Yes 24/7 support: Yes Play Store rating: 4.2 Unblock streaming site: Netlix, Hulu, YouTube, BBC iPlayer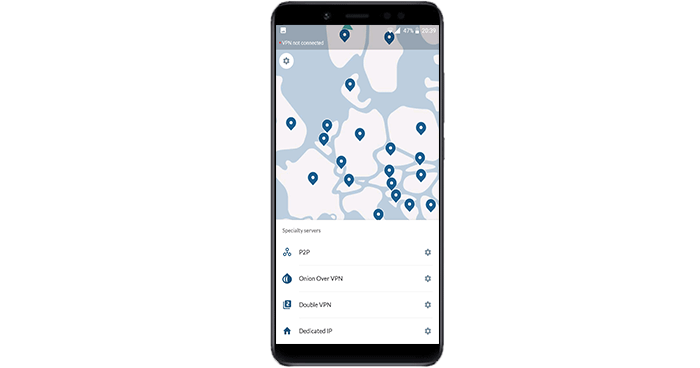 VPN kill witch
No logs
Strong encryption
Works in China
Unblock geo-restrictions
Unlimited Bandwidth
30 days Money Back-guarantee
4.3 Star rating in Play Store
Disount only available on 2 & 1 year plan
The NordVPN app on Android is available on Google Play Store, with an excellent 4.3-star rating. It is compatible with Android 5.0+ devices, and the service does not log any user information. NordVPN has been downloaded more than 10 million times on Google Play, making it a tempting proposition for many people.
NordVPN prioritizes the security of its customers. Besides offering Double VPN and Onion over VPN, there is a good selection of protocols. We also loved NordVPN's "CyberSec" feature as well as its kill switch.
As on the desktop apps, "CyberSec" utilizes a DNS blocklist to protect users from viruses and botnets while helping prevent botnet control and blocking intrusive ads. Nord has been certified as a genuine zero-logging service by a new independent audit, so if privacy is an issue, that'll be a big tick.
When you click into the settings, you'll find plenty of settings options. Its primary disadvantage is its awkward design. The VPN on Android mimics the desktop client's layout, but a map-like interface surrounds it.
Although this is useful on a large monitor or tablet, the limited real estate on the phone makes it harder to find the server you're seeking. Several servers are listed, but we'd like to check them out immediately. The Android phone app of NordVPN has user-friendly interface.
However, that one gripe aside, NordVPN is an excellent VPN for a reason. It's highly secure, offers full features and excellent support, and is an excellent value at an affordable price. You can get a free trial with 30 days refund policy.
Best all-around Android VPN App
Available on: Windows OS, macOS Android, iOS, Linux | Number of servers: 3,000+ | Server locations: 160+ | Zero-logging: Yes | Simultaneous connections: 5 | Bandwidth limit: No | Dedicated Android app: Yes | Live Chat support: Yes | Unblock Streaming site: Netflix, Hulu, Amazon Prime, BBC iPlayer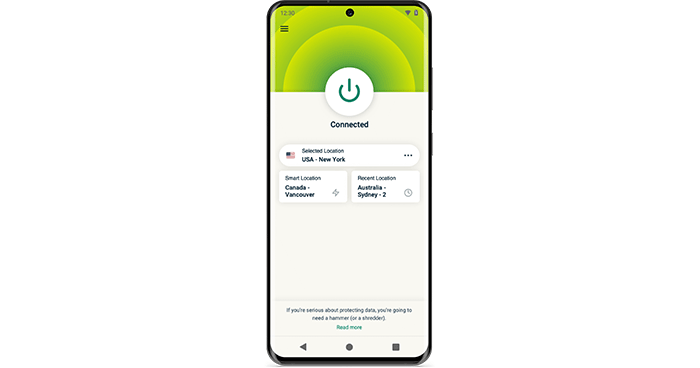 Unlimited Bandwidth
Strong encryption
VPN Kill Switch
Split Tunnel
Fast Speed
24/7 live customer support
Expensive
With its fast connection speeds, brilliant security, and excellent customer support, ExpressVPN is the best all-around VPN for Android. However, it's one of the most excellent VPN services for Android, plus it's super easy to use. The interface is straightforward to use, and they have servers all over the world, which makes it the best Android VPN on the market.
Express lets you stream your Netflix library wherever you go, along with iPlayer, Hulu, and Amazon Prime. But Express doesn't stop there. With a VPN client for your mobile device, you'll be able to switch between various protocols, activate a kill switch, as well as choose whether particular apps should be routed through the VPN.
No logs are kept by ExpressVPN, which has servers in over 160+ locations and a large focus on privacy.
ExpressVPN likely doesn't come at the lowest price for those seeking the best Android experience, but it's worth it for those who want the best Android experience.
With ExpressVPN, you can choose from three payment plans, with the 12-month plan offering the most substantial savings, plus you get to keep the program for an additional three months. The 30-day money-back guarantee lets you try Express completely risk-free.
3. Private Internet Access
Best Cheap Android VPN app
Dedicated Android app: Yes | kill switch: Yes | Fast Speed: Yes Allow torrenting: Yes Downloads: 1 million+ | Also available for: Windows, Mac, iOS. Linux, Router, FireTV, Chrome Extension| Maximum devices: 10 | Play Store review: 4.4 Unblock streaming site: Netflix, Hulu, BBC iPlayer, Amazon Prime video, YouTube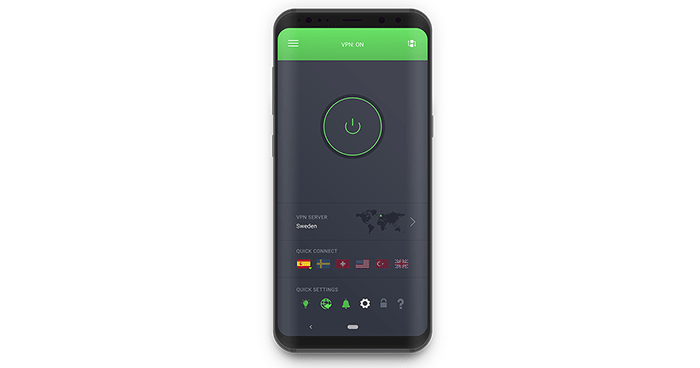 DD-WRT VPN Compatible
No Traffic or Request logs
Gigabit VPN port speeds
Unlimited Bandwidth
P2P Support
10 devices simultaneously
Super Cheap VPN
No Support over the phone
The Private Internet Access app for Android is easy to use and contains an abundance of features you can tweak. The app's high ranking in the Play Store shows how popular it is with its users.
You won't find a neat favorites system like other VPN providers, but there are many other features. It supports UDP, UDP over IP, and TCP, along with port forwarding. The handset automatically vibrates when connected, so you can define the local and remote ports, choose custom encryption, and even use custom handshaking methods.
In addition to providing superb connection speeds, PIA offers built-in ad-blockers and P2P support, allowing you to have a better internet experience. On the Android platform, we were particularly impressed with the way the app worked. I have found that the Android client defaults to OpenVPN encryption, and the cryptographic tunnel connects with its servers quickly. I streamed on YouTube at plenty of speed and was able to unblock Netflix to watch a few extra shows.
A kill switch is available to protect your anonymity, and you are also auto-connected to the VPN each time you join it.
In essence, the app is very simple to use. It has a single big on/off button with the IP region denoted under the domain name. Additionally, the performance was excellent, and the security policy is also favorable. With its lack of live chat support, PIA falls behind some of the best Android VPNs out there, however.
4. Hotspot Shield
Best Free VPN for Android
Dedicated Android App: Yes | Fast speeds: Yes | Number of servers: 1,800+ in 80+ countries | Maximum devices supported: 5 | Streaming sites unblocked: Netflix, iPlayer, YouTube, Amazon, Hulu | VPN Kill Switch support: Yes Free Data: Yes 15GB for a month 500MB daily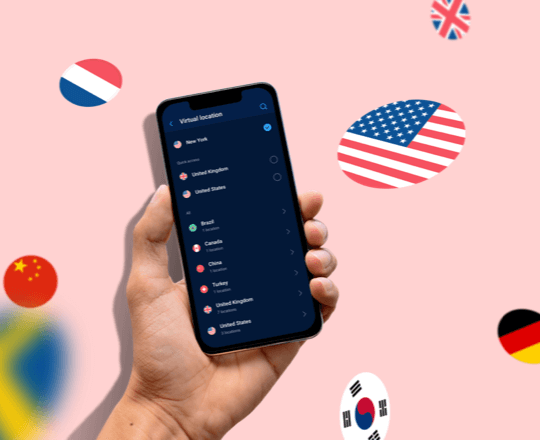 Military-grade encryption
Zero logging
Unlimited bandwidth
Link up to 5 devices
Fastest Torrenting VPN
500MB Free Data Everyday
Only 1 server in Free plan
Hotspot Shield has plenty of features, including free and paid versions. It'll get you speed and security without you having to do a thing.
Using a VPN kill switch feature protects you against revealing your IP address whenever your connection to VPN drops. It will disable your internet connection until the VPN connection establishes again.
Like other VPNs, Hotspot Shield doesn't log user's data. It uses AES-256 solid AES-256 solid encryptions.
The Hotspot Shield Android clients use Catapult Hydra, the same protocol as desktop clients, which means you should be able to receive speeds of over 450Mbps provided your Internet connection can handle it.
Hotspot Shield also a free plan. In this free plan, you will 500MB daily. But it's limited to only a single US server. Moreover, you will get limited speed on a free plan.
Getting started is super simple. You need a single tap to get connected, and a list of international servers is just a tap away. But if you are looking for a robust configuration, Hotspot's mobile VPN offers are hardly more than "regular" VPNs.
Although many users may not appreciate this absence of advanced functions, the incredible speeds more than compensate for it. Hotspot Shield may be an excellent VPN choice if you want to maximize 5G speeds.
Hotspot Shield gives its users a 45-day money-back guarantee. So they can use their VPN services without any risk of losing their money.
5. IPVanish
Best Android VPN for Torrenting
Dedicated Android App: Yes | Fast speeds: Yes | Number of servers: 1600+ in 75+ countries | Maximum devices supported: Unlimited | Downloads: 1 million+ | VPN Kill Switch support: Yes | 30-Day Money-Back Guarantee: Yes Play Store ratings: 3.8 Unblock streaming site: Yes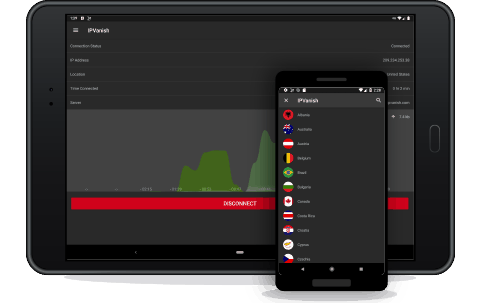 IPVanish is an overall good app with a couple of unusual features like obfuscation and split tunneling. Over one million+ download on Play Store, which makes IPVanish the best android VPN. It now has a kill switch, previously lacking. With this feature, your internet connection is cut off automatically when your VPN connection drops, protecting your IP address.
You'll feel safer in just a few minutes with the IPVanish Android app. By way of some striking visuals, the app displays genuinely helpful status information (e.g., IP address, server name, location, etc.).
In our testing, IPVanish review – we saw some impressive download speeds, which make this VPN best for torrenting on Android and other devices. Also, IPVanish doesn't keep track of your online activities (again, while we'd appreciate it if its policy were audited as its competitors do), plus you get 256-bit AES encryption, along with 24/7 customer support.
Moreover, it has optimized streaming servers. So you can stream at 4K resolutions. It also unblocks Netflix, BBC iPlayer, Hulu, YouTube.
With IPVanish, you can now connect as many devices with your monthly subscription as you want, so it's a great deal. There is no limit to VPN connections.
Recently, we noticed that the average user review rating dropped significantly, leading to several users reporting problems. In general, we weren't able to make them happen in our testing, but it does indicate a concern.
In subscription, IPVanish a very cheap plan as compare to other VPN providers. Furthermore, you can use their services with a 30-days money guarantee.
Easy To Use
Dedicated Android app: Yes | kill switch: Yes | Downloads: 1 million+ | Unblock streaming site: Netflix, Hulu, YouTube, Amazon Video Also available for: Windows, Mac, iOS. Linux, Router, TV app | Maximum devices: Unlimited | Play Store review: 4.4 Allow P2P: Yes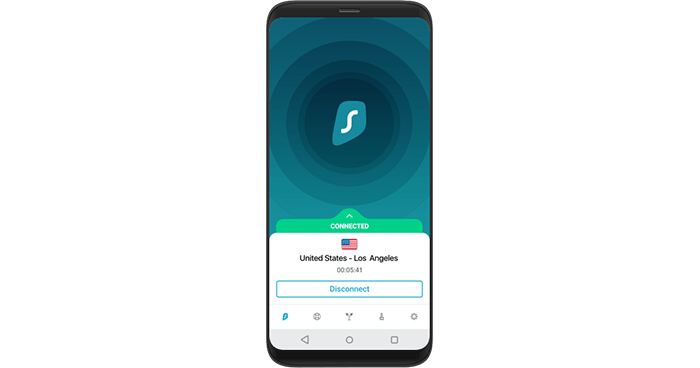 Kill switch
Split Tunnel
Super Fast
Unlimated Bandwidth
Based in British Virgin Islands
Super Cheap VPN
No Support over the phone
Surprisingly, Surfshark delivers just as well as the big guys. First off, you'll note the excellent app, which keeps things simple while offering several features and options – including a kill switch, split tunneling, and HackLock and BlindSearch betas.
With Surfshark, the interface does not change much from desktop to mobile. Since its desktop offering is so simple, we would posit that its designers didn't have much trouble translating the software to its smaller screen size. Moreover, it uses solid AES 256 encryptions.
It's a great start, but there's more to like about its VPN than its usefulness with steaming sites.
With Surfshark subscriptions, you can use them on an unlimited number of devices. There is no limit as you can use the same account on Router, Android, macOS, TV, Windows, all other devices.
It's easy to submit a support request from the app itself. Although in our experience, this function is not used too often. Surfshark keeps it simple on mobile.
7. VyprVPN
Best Android VPN app
Dedicated Android App: Yes | Fast speeds: Yes | Number of servers: 700+ in 70+ countries | Maximum devices supported: 5 | Downloads: 1 million+ | VPN Kill Switch support: Yes | 30-Day Money-Back Guarantee: Yes Google Play rating: 3+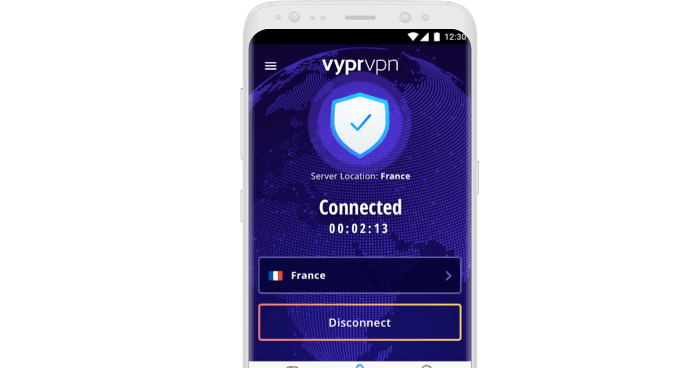 High-speed Streaming
No logs
Strong encryption
5 Simultaneous Connections
Unblcok geo-location
No Crpto Payment
VyprVPN can support OpenVPN and the Chameleon security protocol. The VPN is using Chameleon to steer clear of deep packet inspection. In addition, it prevents your connection from being detected or throttled, making it an excellent choice for Android users.
It also offers its customers a VPN app for Android available to download in the Google Play store. Once users connect with the app, they will be shown the best and fastest servers to stream TV shows and films. Download and upload rates and ping times are conveniently displayed to choose the best server for you.
Furthermore, VyprVPN does not log any data due to its excellent speeds and security. This method may not suit all streaming requirements since it may cause much lag and IP tracking.
Also, since it's fast rates and exceptional security, VyprVPN operates a no-logs policy for most of your data. The only drawback is connection time and IP logging, so this may not suit your streaming requirements.
Android VPN FAQ
Are Android VPNs legal?
Since their connection to hackers, pirates, and other online criminals, VPNs have earned a somewhat tarnished reputation. The vast majority of users are entirely above board and remain 100% legal in using VPNs on all of their devices.
Which is the best VPN for Android?
It is impressive to see how NordVPN tops the lot among the Android VPNs. I like that this app is straightforward to use and get started using while still having many features. Access to over 5444 servers and the ability to unblock websites and watch overseas Netflix shows is included, as well as CyberSec, Split tunneling, a dedicated kill switch, and other features.
Is an Android VPN safe?
Choosing one of the seven Android VPNs listed above is an excellent way to make sure you are choosing a quality provider. You can find links to the provider's websites on these pages, or you can search the Play Store.
The VPN doesn't offer you 100% security, so if you enter your details on a bogus site or download malware, you're not fully protected by the VPN. The best VPNs make it, so your data isn't leaking out on an unintentional basis, but if you're smart, they kick your protection to the next level.
Are Free VPNs safe to use?
The use of free VPNs undermines your privacy, not protects it. There are many free VPN services that lack the resources to protect your privacy and prevent unscrupulous sales practices.