How to setup VPN on Windows 10? Do you need to attach with VPN through your Windows computer? Sometimes you're doing not have VPN software to help you and instead, you've to configure it yourself. Fortunately, this is often often often often easy to undertake to. Just follow these steps:
For business or personal use, you can connect to a virtual private network (VPN) on your Windows 10 computer. A VPN connection can provide a more secure link and access to your business network and the Internet, such as working in a coffee shop or a similar public place.
Step:1 Get VPN login details
To set up a VPN connection with Windows 10, you need the correct connection information. Otherwise, you will not be able to access the VPN server. If the VPN connection is established during your activity, you will need to ask your boss for the correct authentication details. Are you running a VPN for personal use? Then, you created this data yourself when setting up your account. With this information, often consisting of a username and password and possibly a specific server address to connect to, you can follow the next three steps to connect to a VPN.
Step:2 Open VPN Settings in Windows
Go to start menu by a tap on Windows logo.
Search for settings.
Once the (Settings) screen opens, click Network and Internet.
Then choose VPN.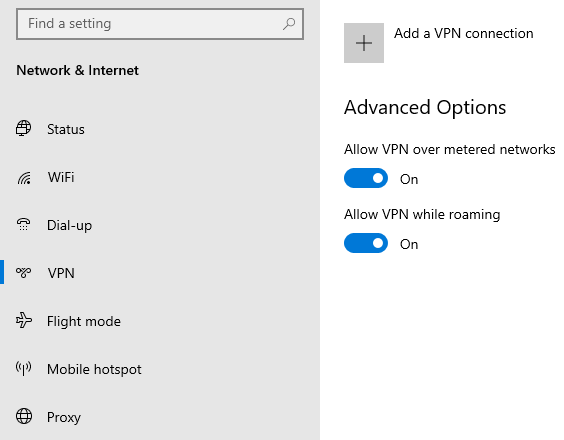 Step:3 Add a VPN connection

A blue screen will popup. Now you can enter the details of your VPN provider.
Select VPN provider as Windows (built-in)
Add connection name ( VPN provider)
Under Server name or address, enter the IP address or server URL of the VPN server.
In the VPN type, choose the VPN protocol you want to use. In most cases, you'll be able to select the PPTP (Point to Point Tunneling Protocol) option here.
Under the type of sign-in info selection username and password.
Now under username type VPN provider's username.
Under password type VPN provider's password and select save.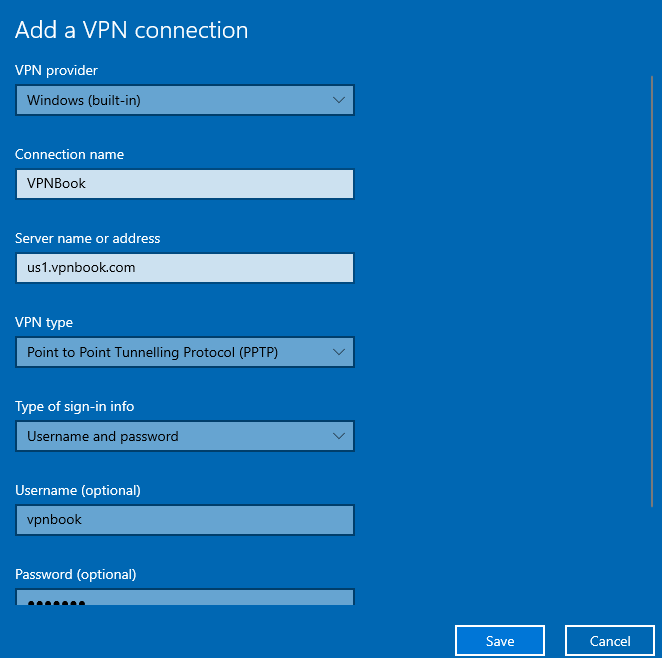 Step: 4 Connecting VPN
After saving. Go to windows notification you will VPN. Now tap on VPN, you will on the screen as we have done in step 1.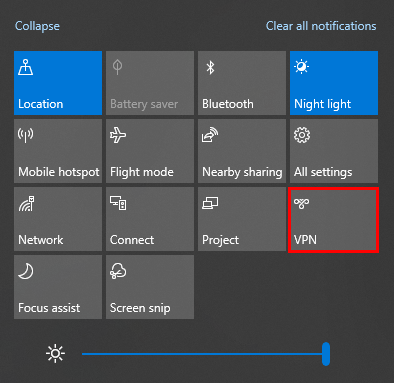 Tap on connect, Now you have add VPN connection successfully and made VPN connection .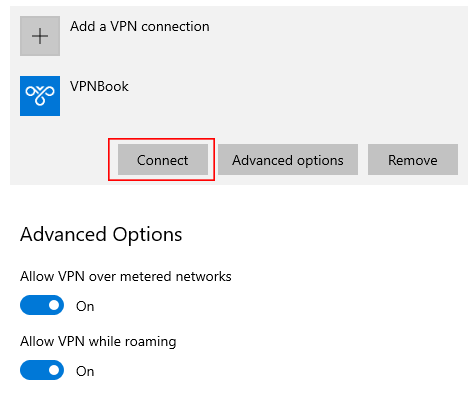 If you want to get free VPN service tap on VPNBook.com
How to setup VPN on Windows 10 without doing zero manual process.
Using a VPN through settings in Windows 10 can be very helpful. After all, Windows automatically connects you to the VPN server, so you don't have to turn on the VPN every time manually. What's more, it allows you to connect to your private network remotely and securely.