I love using VPN services, and this is because, most of the time, I can use them to access whatever and whenever. Streaming is fun until you get the best VPN for streaming and upgrading your game.
To watch my favorite TV series and movies on streaming services like Amazon Prime, Netflix, and Disney+, I always use a VPN. After all, I can watch content while connected to an encrypted server using a VPN, which adds security by encrypting all of my traffic.
What is a Virtual Private Network?
A VPN is software that secures user internet traffic by changing the user's IP address, enabling them to get around regional restrictions on online services and browse the web anonymously.
The process involves routing the data through several servers based on the user's preferences to replace the current IP address with a distinctive one.
Your Guide to the Best VPNs for Streaming: A Summary
7 Top Rated VPN for Streaming in July 2023
1. NordVPN
VPN kill switch
No logs
Strong encryption
Works in China
Unblock geo-restrictions
Unlimited Bandwidth
30 days Money Back-guarantee
4.3 Star rating in Play Store
Discount only available on 2 & 1-year plan
For various factors, NordVPN is the best VPN for streaming. In addition to having extremely fast connections and buffer-free viewing, this VPN also enables you to use various streaming services.
The fact that the firm operates 5500+ servers in 59 countries is beneficial. After all, this guarantees that you will have a wide range of possibilities.
Therefore, you won't have any problems if you need a specific country IP address for your disguise and want to connect to a particular national broadcaster.
NordVPN unblocks BBC iPlayer, Netflix, Hulu, Amazon Prime, HBO Max, Disney +, and DAZN.
Connecting different media equipment can be a nightmare. Frequently, the device you're using can be the source of the issue. For instance, certain of your home's media equipment could not support VPN software. However, due to its SmartDNS technology, NordVPN has no issues there.
You can set it up on gadgets like Apple TVs, other Smart TVs, consoles, or specific media players that don't support VPNs. You can then easily stream your movies on 123 movies and other sites.
The service keeps your connection private without sacrificing speed by utilizing cutting-edge tunneling methods and sophisticated encryption ciphers. As a result, all your internet activities will be completely disguised, and no one will ever discover what you've been watching.
2. ExpressVPN
VPN kill switch
No logs
Strong encryption
Unblock US Netflix
Unblock geo-restrictions
Allow P2P
30 days Money Back-guarantee
Expensive
One of the main reasons why you need a VPN is to regain access to your regular services while traveling. ExpressVPN does well while accessing video streaming sites, even though it is secretive about its skills. It is, therefore, not always clear which servers users should connect to.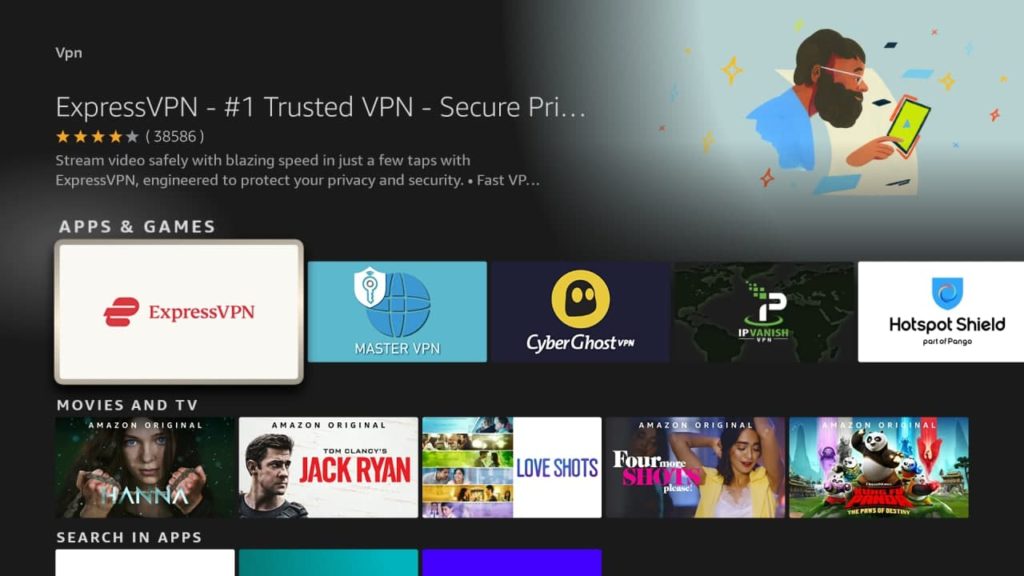 It has a specific Smart DNS solution for streaming and maintains breakneck speeds across all servers. Additionally, it offers user-friendly apps for Smart TVs, routers, Windows, macOS, and iOS. It is also among the best VPNs for Android and other platforms.
ExpressVPN has incredible speeds for short and long-distance connections without connection drops or interference. Besides having incredible speed, this VPN is safe and private too. I like how you can first log in with no identifiable personal logs.
You can access over 3000 IP addresses in 94 server locations. Hence, you will get a VPN server in most countries.
There is a native ExpressVPN Firestick app as well. The application broadcasts IPTV apps and streams video from Kodi add-ons anonymously.
Although I enjoyed streaming with this VPN, it is not very consistent with BBC iPlayer. This is not surprising since BBC has increased its effort to block VPN traffic.
3. Surfshark VPN
Kill Switch
No Traffic or Request logs
Unblock Netflix
Unlimited Bandwidth
P2P Support
10 devices simultaneously
Super Cheap VPN
Doesn't good in P2P
Surfshark is another secure and reliable VPN you can use while streaming movies and other shows. It is also budget-friendly, so you don't have to spend an arm and a leg to get a secure VPN.
Image Credits: Beebom.com
With Surfshark, you can access up to 3200 servers in 60 countries. In addition, it works with some of the most popular streaming sites, which means you will not miss any of your favorite shows.
If you worry that you may not be able to stream on stubborn platforms like BBC iPlayer, Netflix, or Amazon Prime Video, you will be shocked as you can safely access these services. Furthermore, you will watch your videos without lag or buffering as the speeds are impressive.
You are also at liberty to connect whatever number of devices simultaneously. So, you can protect all the devices as you stream your favorite movies.
4. Private Internet Access
DD-WRT VPN Compatible
No Traffic or Request logs
Gigabit VPN port speeds
Unlimited Bandwidth
P2P Support
10 devices simultaneously
Super Cheap VPN
No Support over the phone
Take this as a go-ahead sign if you have never tried Private Internet Access and are still unsure about it. You want a VPN for streaming, so you need one with enough speed.
PIA offers impressive speeds and works with a large number of streaming sites. These qualities ensure that you enjoy your streaming without interruptions or lag.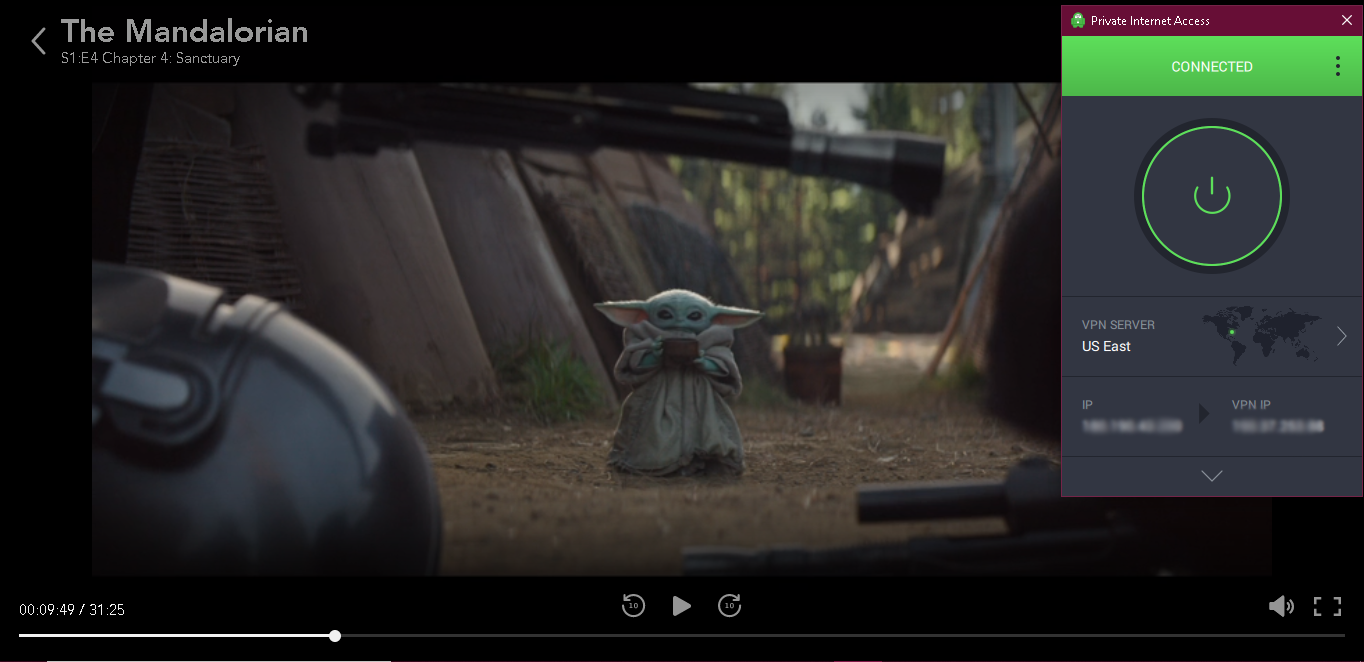 You may only notice a slight decrease in speed when using the WireGuard protocol, but it is still impressively fast. However, sometimes you may want to stream content on devices that don't support VPN installation, like smart TVs.
If this happens and you have PIA, you don't have to worry. The VPN lets you stream on such devices using Smart DNS. Another thing I like about the PIA VPN is that it displays the server ping, which is a speed metric.
With such features, you can easily tell the fastest servers in your location. Isn't that incredible?
Unlike its competitors, Private Internet Access does not offer unlimited simultaneous connections. Instead, it offers only 10, which is also enough for the typical user if you think about it.
5. CyberGhost VPN
Looking for the best VPNs for streaming, right? Well, CyberGhost comes with specialized streaming servers. When I tried this VPN, the speed was incredible, which can only be linked to the service's specialized streaming servers.
In our testing, the agency completed quite impressively with a few outstanding operation grades, and there's a significant number of servers, too. Your customer is straightforward to use, which is very important to novices. However, there may be a few interface problems.
4.8 out of 5
No Traffic or Request logs
Unlimited Bandwidth
P2P Support
10 devices simultaneously
Super Cheap VPN
Expensive for monthly plans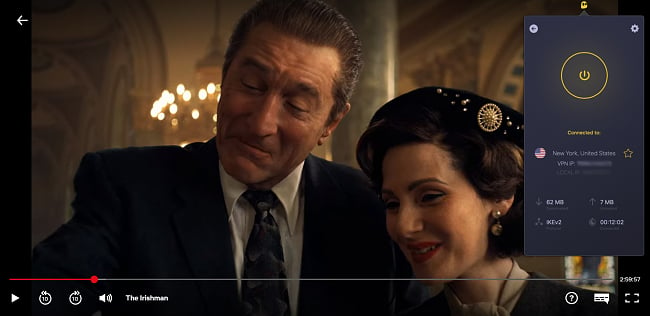 Travelers who want to access their preferred streaming service can connect to the best server in their native country using specialized streaming servers. CyberGhost, however, also offers excellent streaming support on all of its normal servers in more than 90 countries.
For the necessary platforms and routers, CyberGhost offers user-friendly apps. For devices without native apps, it also offers Smart DNS. Additionally, it enables you to switch to DNS servers in the US, UK, Japan, and Denmark.
CyberGhost offers complete leak prevention as well as perfect forward secrecy when it comes to top security features. Additionally, it routinely publishes a transparency report that lists every user data request CyberGhost gets and demonstrates that it never distributes that information.
6. Proton VPN
Fast streaming, access to all the top streaming sites, and cutting-edge security and privacy features are all provided by Proton VPN.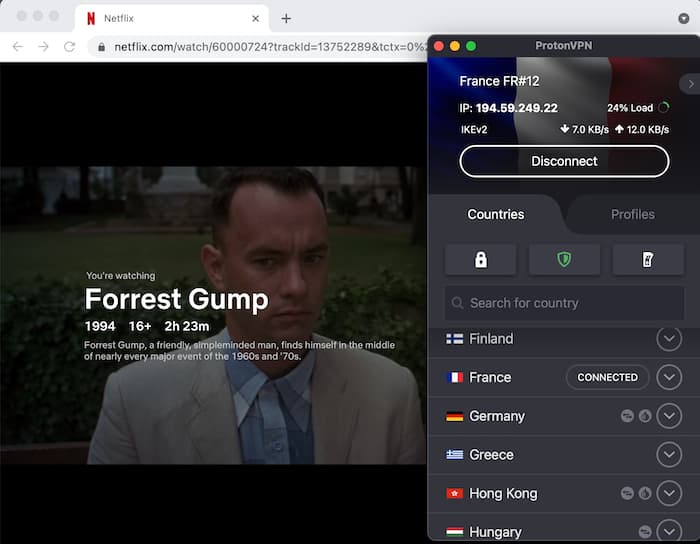 You may establish numerous user profiles with ProtonVPN, which is highly user-friendly. When you run the app, these profiles contain your connection preferences, such as whether you want the app to automatically connect to the fastest server or which server to connect to in a certain nation or region.
All of the well-known streaming services are compatible with ProtonVPN. However, only the Plus servers—which are exclusively accessible to users of the Plus plan—allow streaming. The free version of ProtonVPN does not support streaming.
This VPN has open-source apps, and all the apps are independently audited. Moreover, with its perfect forward secrecy and full disk encryption, all the data on the server are unreadable. So, you can be sure that this is the real deal. Also, check out this Proton review for more details.
6. IPVanish
DD-WRT VPN Compatible
No Traffic or Request logs
Unlimited Bandwidth
P2P Support
10 devices simultaneously
Super Cheap VPN
Limited Servers
Next, we have IPVanish, a reliable VPN for streaming. It connects to servers in over 50 regions, including USA and Australia.
The VPN protects you from cybercrime as it offers a military-grade AES-256 cipher, which protects it and yourself. This feature ensures no hacker can decrypt it or spy on you while streaming.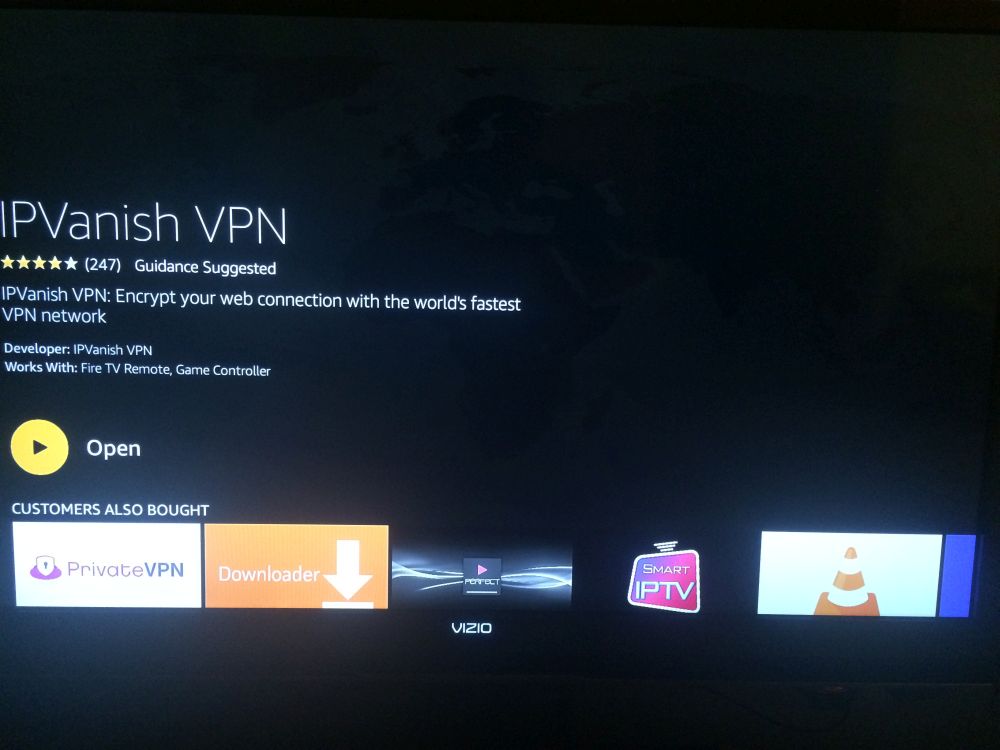 Another great thing you will love is that it supports unlimited simultaneous connections. This aspect ensures that you and your friends or family can access streaming services without worrying about how many you are.
It unblocks major streaming platforms like Netflix, BBC iPlayer, HBO Max, Disney Plus, and YouTube, among others. However, it does not unblock other platforms you could be interested in, like Amazon Prime, Hulu, or DAZN.
How to Use a VPN For Streaming
Now you know what you can select when looking for the best VPNs for streaming. Next, you may need to understand the process involved in streaming with a VPN. So, check out the steps given below;
i) Select your chosen VPN service and subscribe to it.
ii) Next, download the VPN software and install it following the prompts.
iii) Use your subscription credentials to log into the app once you have installed the VPN.
iv) Check the country you'd like to connect to, then select a VPN server within the country.
v) Navigate to the streaming service of your choice and then log in as usual.
vi) You can now access all the TV shows and movies available in your selected country. Enjoy streaming.
Benefits of Using a VPN For Streaming
a) Streaming on Restricted Networks
Some networks, like workplaces, public transportation, and schools, only allow users to browse. All apps may be prohibited if you want to watch some Netflix or listen to music on Spotify.
You may access everything you want from anywhere and conceal your activities from the ISP by utilizing a VPN. For example, although we don't necessarily encourage it, using a VPN allows you to stream Netflix at work.
b) Stream through Unsecure Networks
Unprotected networks can be risky despite their ease, especially if you're entering important data like logins or bank information. Additionally, streaming live content is among the most popular reasons for connecting to a public network.
No matter what network you're connected to, you can stay safe using a VPN and still enjoy all the great streaming content you do at home.
c) Access Geo-Restricted Sites
There is a huge amount of streaming services that are geographically locked to one country. Some of these streaming services include Hulu, BBC iPlayer, and others.
Although some are free to see and some are paid for, access will always be denied if you are beyond the provider's service area. Consequently, it can be a major hassle for travelers, especially if you're paying for a service.
The easiest method to avoid this is to use a VPN to change your location virtually.
d) Watch Other Countries' Netflix Content
Regarding streaming websites, Netflix stands out somewhat because the same service is offered virtually everywhere. The content that is accessible, however, changes greatly depending on where you are.
For instance, the best Netflix shows only available in the US won't be available to you if you're in Europe. However, using your VPN to connect to a US server may get you exclusive material from anywhere.
e) Watch Global Exclusive Live Events
If you are a real sports enthusiast, you understand how risky it is to pay for specialist subscriptions and pay-per-view events. However, this can change with the best VPN for streaming, and you can start watching anything you desire for less or for free.
You cannot watch some sports without subscribing to the right channels. However, we both understand that it is a pricey commitment you may not be ready for.
You can minimize these charges by using a VPN to connect to a server where the sport is broadcasted for free. Some free-to-air events that VPN has unlocked include Euro 2020, the Champion's League final, and Meghan and Harry's Oprah Interview.
So, if you wish to watch something aired only in a specific country, a VPN can unlock them for you and let you watch from anywhere.
f) Avoid Network Throttling
You cannot enjoy streaming huge amounts of content when your internet is slow. If you have noticed that your internet slows down when you are streaming or gaming, it could be network throttling.
Throttling is when your ISP reduces your connection because of your activity to ensure everyone else in your neighborhood isn't impacted by your high-bandwidth usage.
Network throttling is common and affects everyone. However, with a good VPN, your activity becomes encrypted. Hence, it will be impossible for the ISP to see you. The result? You will not experience network throttling, thus allowing you to enjoy streaming at normal speeds.
g) Simultaneous Streaming on Several Devices
Most VPN providers allow simultaneous connections with a single subscription. For instance, you can spread the five connections with an ExpressVPN plan across five different devices. So whether you're watching Netflix or using your gaming console to offer your TV smart capabilities, you'll be able to install your VPN and leverage its geo-unblocking and security benefits across devices.
Disadvantages of Using a VPN for Streaming
a) Slow Speeds
It takes some time for a VPN to encrypt your data, which could harm how you use the internet. Therefore, before deciding to use the service, it is vital to review the specs because the issue is more severe with some VPNs than others.
VPN blockers may render a VPN ineffective. In addition, some websites and even whole countries restrict access to websites and material for VPN users. This occurs in several countries, including Iran, Turkey, and Oman. Typically, the restrictions are made to stop its citizens from viewing things the governments deem inappropriate.
b) Complex Configuration
There are several moving pieces in VPNs that can be challenging to understand. If you are unfamiliar with networking jargon, it would be wiser to go with a VPN provider that offers the setup assistance you need to get started.
You can learn more about a VPN and acquire the background information required to comprehend the fundamental concepts and operations of the technology. Whether you do it yourself or receive help, it's crucial to ensure your VPN is set up correctly. Otherwise, hackers, malware, or other risks might access your conversations.
What if My Streaming VPN Isn't Working?
Some streaming services block users from accessing content from their sites with a VPN. They do so if they believe your IP address belongs to a VPN server. Normally, they take this step when they see many users trying to access the site with a similar IP address.
When blocked, it will be hard for your VPN to get around them. However, the best will manage. So, here is what to do to fix such a problem;
a) Relaunch the streaming service after clearing your browser's cache, cookies, and DNS cache.
b) Repeat the first process by establishing a connection to a different VPN server. If your preferred streaming service doesn't have any dedicated servers, you should get in touch with the customer care team of your VPN company to learn which VPN servers are currently compatible with it.
c) Use a different browser to access the streaming service.
d) Turn off location services and GPS on your smartphone, computer, and browser.
e) Turn off IPv6 on each device. If none of these work, try a new VPN provider.
Frequently Asked Questions
1. Are free VPNs good for streaming?
No, using a free VPN to stream won't work. This is due to the difficulty in unblocking streaming platforms. After a service's IP addresses are banned, they must obtain new ones because Netflix continues prohibiting IP ranges connected to the VPN's customers. The issue is one of the main factors preventing you from using a free VPN to get around these limitations.
Some free versions of premium VPN services, however, might function. As no one is working overtime to guarantee that customers of the free edition have the greatest performance possible, the performance won't be outstanding.
Additionally, it might function one day and then abruptly stop. When using a free version, consistency isn't one of the things that are guaranteed.
2. How can I be safe when streaming?
The only times you should be concerned about your safety while streaming is when you're dealing with copyrighted material or illegal streaming in your area. In certain circumstances, concealing your IP address becomes crucial. A VPN can be useful in this situation as well.
3. Is using a VPN for streaming worth it?
If you're someone who loves streaming, it's worth considering getting one of the best streaming VPN services, as you'll be able to boost your content viewing experience considerably.
You may access the geo-restricted content on your preferred streaming services using a VPN, no matter where you are. Additionally, you can successfully avoid bandwidth throttling and maintain fast connection speeds to avoid buffering. Of course, if you decide to stream on public Wi-Fi networks, a good VPN will safeguard your internet data.